Episode 7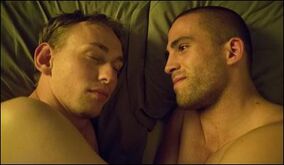 Episode Information
Episode Guide
The Seventh episode of Banana. You may searching the Seventh episode of Cucumber or Tofu's.
Synopsys
Aiden's a happy, handsome Welsh lad who's moved to Manchester, and Frank's a farmer on a night out in the city. They find themselves thrown together as two-thirds of a threesome, but the morning after… could this be love?
Plot
Cast
Continuity
Trivia
TBA
Multimedia
Ad blocker interference detected!
Wikia is a free-to-use site that makes money from advertising. We have a modified experience for viewers using ad blockers

Wikia is not accessible if you've made further modifications. Remove the custom ad blocker rule(s) and the page will load as expected.