Episode 3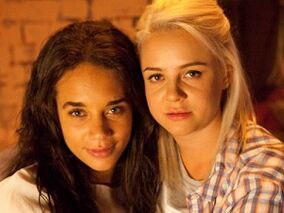 Episode Information
Episode Guide
This is Banana's episode three, you may searching Cucumber's episode three or Tofu's episode three.
Summary
Two lives collide when uptight Sian meets wild-at-heart Violet. Opposites might attract for a while, but how long can this couple last?
Plot
The episode opens with Sian workplace busy cataloging the new arrivals when a brunette girl, Violet, approaches her to ask her advice on what shoes to buy.
After finding the right shoes, Violet asks Sian because the shoehorn is called "horn" when you can not play it and Sian then tells her that it's a secret to those who work in the field.
In the following days, Violet back to the store every day to change shoes purchased for absurd reasons: once the color, once the form, another thinks that the shoes are haunted and another because they are equal to those of Myley Cyrus.
Annoyed by the situation, the sixth day Violet finally reveals to Sian that her visits were all excuses and that she actually went back to the shop to see her and asks her on a date. The two then go to lunch together and while Sian back to the shop, Violet kisses her against the railing of the closed shop.
The two girls begin dating and often sleep together. Vanessa, Sian's mum, understands that something new has happened to her daughter and asks her if she is in love. Sian, however, doesn't want to tell her mum she's dating a girl because even Vanessa is a lesbian and when Sian was little,her mum always went to bed with different women every week. Sian eventually relents and Violet invites Vanessa to lunch and the two also go very well. Sian accepts Violet's proposal to live together in her flat (which is nexdoor to Freddie and Dean's flat).
To ruin everything, however, Violet's predilection to throw parties every night when Sian instead just wants to rest after a day's work. When after a night of revelry, Sian's iPad (where there was all the material work) disappears  , Sian is angry with Violet and the two break up because too incompatible.
Sian is destroyed and blames her mother because she has made her incapable of love since Vanessa did nothing but go from one woman to another. Vanessa, however, says that they are all crap and that she and her snob are the cause her break with Violet. Sian then comes at Violet's flat, who smiles happy to see her.
Cast
Georgia Henshaw as Sian
Hannah John-Kamen as Violet
Lynn Hunter as Vanessa, Sian'a mum, Sian's mum
Fisayo Akinade as Dean Monroe
Continuity
Towards the middle of the episode, Sian comes to empty the garbage, cursing to herself. This same scene is present in the background of the last minutes of the Cucumber's third episode when Henry is out on the terrace.
Multimedia